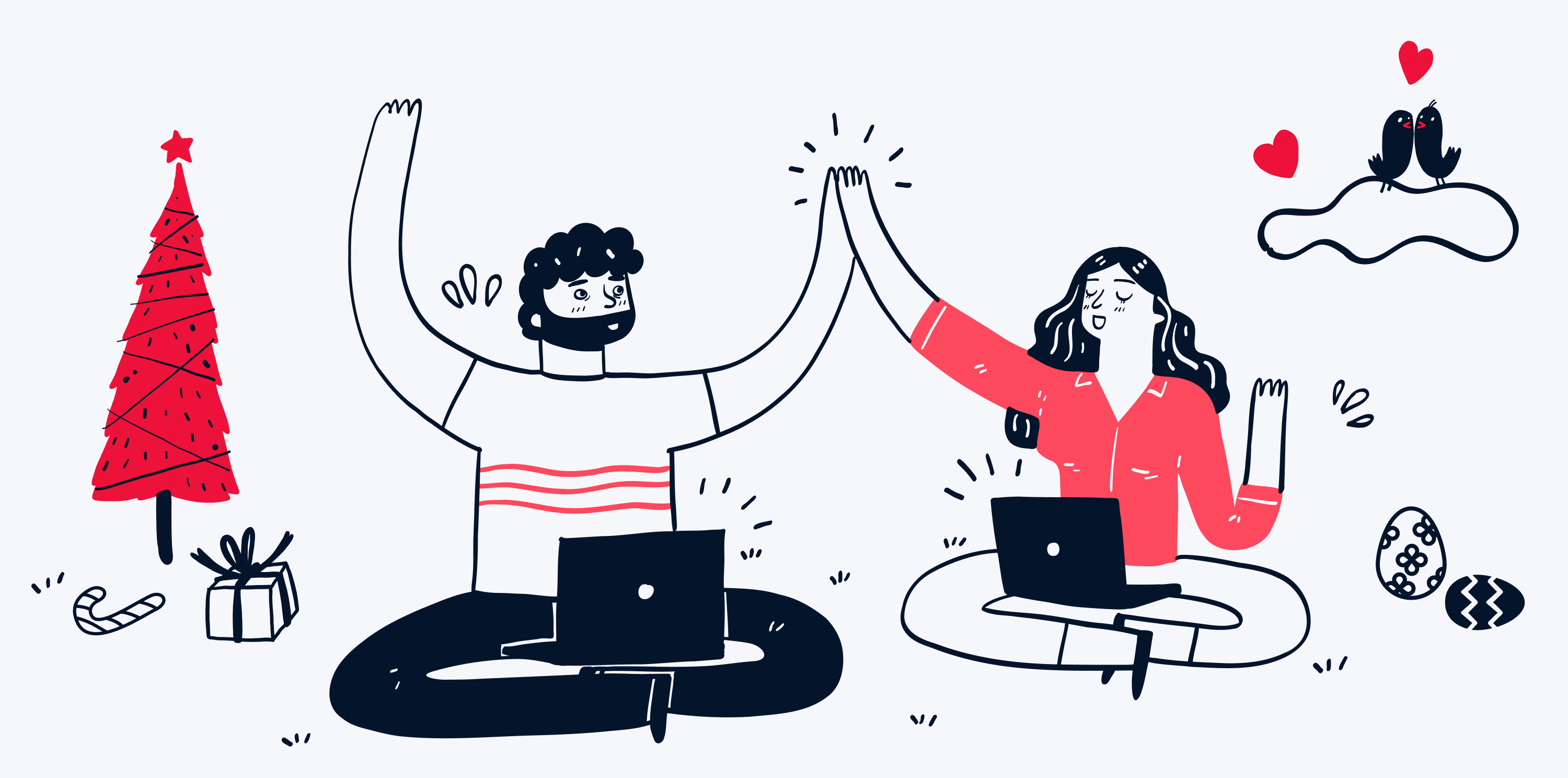 Holiday marketing makes your newsletters more festive
Some of the best newsletters you can send are themed. By drawing on the spirit and intense emotions of holidays, you can create a newsletter infused with creativity. From sharing heartfelt testimonials on Valentine's Day, offering discounts on Black Friday, to celebrating your team on Workers' Day, holidays offer so many newsletter opportunities. Take time to plan a holiday newsletter campaign that improves your bottom line. All while delighting clients and creating deeper connections with your brand.
First, what is holiday marketing?
Holiday marketing is when you make strategic efforts to promote your offerings and brand value during holiday periods. This marketing draws on the 'essence' of the holiday to appeal to your audience.
One of the biggest misconceptions is that holiday marketing can only be done in December. Every holiday throughout the year provides the chance to be innovative - the trick is finding those which work with your brand.
You're already familiar with South Africa's public holidays. But, there are so many fun and unusual unofficial holidays you can use. HubSpot provides an excellent holiday calendar you can bookmark, download, or add to your personal calendar. It's not an exhaustive list but an ideal starting point for ideas.
Benefits of holiday marketing for real estate
Whether big or small, every real estate agency or brokerage can make the most of holiday marketing. It provides plenty of perks worth celebrating about.
Leveraging holidays has a way of refreshing your marketing. It challenges you to be different. By using the language and visuals of holidays, you can market your listings, services, and brand in an exciting way.
The unique packaging will help you stand out from your competition. With some thought and planning, you can display that your business is forward-thinking and one your audience wants to do business with. It shows your brand is approachable and keen to connect with days your audience appreciates. Holiday campaigns take effort so you'll also show you go the extra mile to engage potential and current clients.
Holidays are often associated with positive emotions. The thought of presents, time off work, amusing tales, and the chance to save a rand puts your audience in a cheerful mood. By creating related holiday content, you can associate your brand with these festive feelings.
Social media sites often see a spike in activity during certain holidays. People want to see what everyone is up to on these days - including businesses. You stand a greater chance for your offerings to grab attention during these periods. For Halloween, Century 21 agent, James Pyle, appeared in his listing as Ghostface from the "Scream" horror series. His light-hearted effort ended up garnering 559,084 views and 2,856 saves on Zillow. This year it could be you!
With all that attention, you can trust in holiday marketing to increase your client base. People like looking at holiday-related content - especially when done correctly.
Holiday marketing newsletter best practices
Your real estate newsletter is a powerful way to kick off and end your holiday marketing campaign with a bang. Here are the points to consider when putting it together.
You should first identify holidays that will relate to your audience and business goals.

Your team should plan early so you can prepare related content. You'll want to have enough time to launch a newsletter that can make an impact.

Your newsletter should be filled with

original content

that appeals to your audience. Whatever the holiday, your content should always remain true to your brand and voice.

Do tap into the right emotions within your newsletter. Christmas, for example, evokes feelings of family and contentment, Halloween conjures up anticipation, while Heritage Day elicits feelings of goodwill and ubuntu (showing consideration for others).

The tone and content you push in your newsletter should be consistent with the rest of your digital initiatives. It's important your audience sees and is reinforced by the same message whether they read your newsletter, view your website, or scroll through your social media pages.

Besides your content, you should bring in decorative elements and colours associated with the holiday in your design. Valentine's Day will use shades of red or pink while Christmas is known for presents, the Christmas tree, and reindeer.
By keeping all this in mind, you'll create a winning holiday-themed newsletter.
Holiday marketing ideas for your newsletter
Your newsletter is driven by content. Whatever the holiday, it should have reads that educate, inspire, motivate, and entertain your audience. Here are some examples of newsletter content for the upcoming Heritage Day.
Heritage Day newsletter ideas
Heritage Day (observed on 24 September) recognises and celebrates the cultural wealth of our nation. Heritage Day is also celebrated as a day to braai - a popular pastime that many South Africans share irrespective of their background.
Articles: Your monthly news content should always feature in your newsletter. Here are some Heritage Day examples:
#HeritageDay: Diversity matters wherever you live (Read here)
Ways to clean a braai stand (Read here)
Listings: You can showcase properties within diverse areas. You can also feature listings that have wonderful braai spaces.
Team activities: Has your team dressed up in their cultural clothing? Or are you having a braai at the office? Be sure to share this in your newsletter.
Competitions: If you've had a competition offering a braai set, your newsletter is a good place to reveal the winner's details. You'll be able to encourage social media activity for future giveaways.
Social outreach: Ubuntu is a highlight of Heritage Day. If your real estate business supports a charity or initiative, your newsletter should detail your involvement.
Polls: Newsletters with interactive elements boost engagement. You can run a poll asking your audience to choose between two different braai spices or test their knowledge of South African sayings.
Client feedback: You can ask your social media audience what Heritage Day means to them and share their thoughts in your newsletter.
Facts/statistics: You can share some interesting Heritage Day facts and statistics. For example, how many languages your entire team can speak or fascinating historical gems about the areas you specialise in.
Decor tips: Show how homes and offices can use authentic South African decor to revitalise their spaces.
These are just some of the ways you can captivate your audience. Whatever you decide to promote, having a great newsletter structure will provide the foundation for success.
Elevate your holiday-themed newsletter
This month get 15% off Prop Data's custom email newsletter. Responsive, beautifully designed, and personalised, it makes holiday marketing easier than ever. Talk to our team for more information about this limited-time offer.