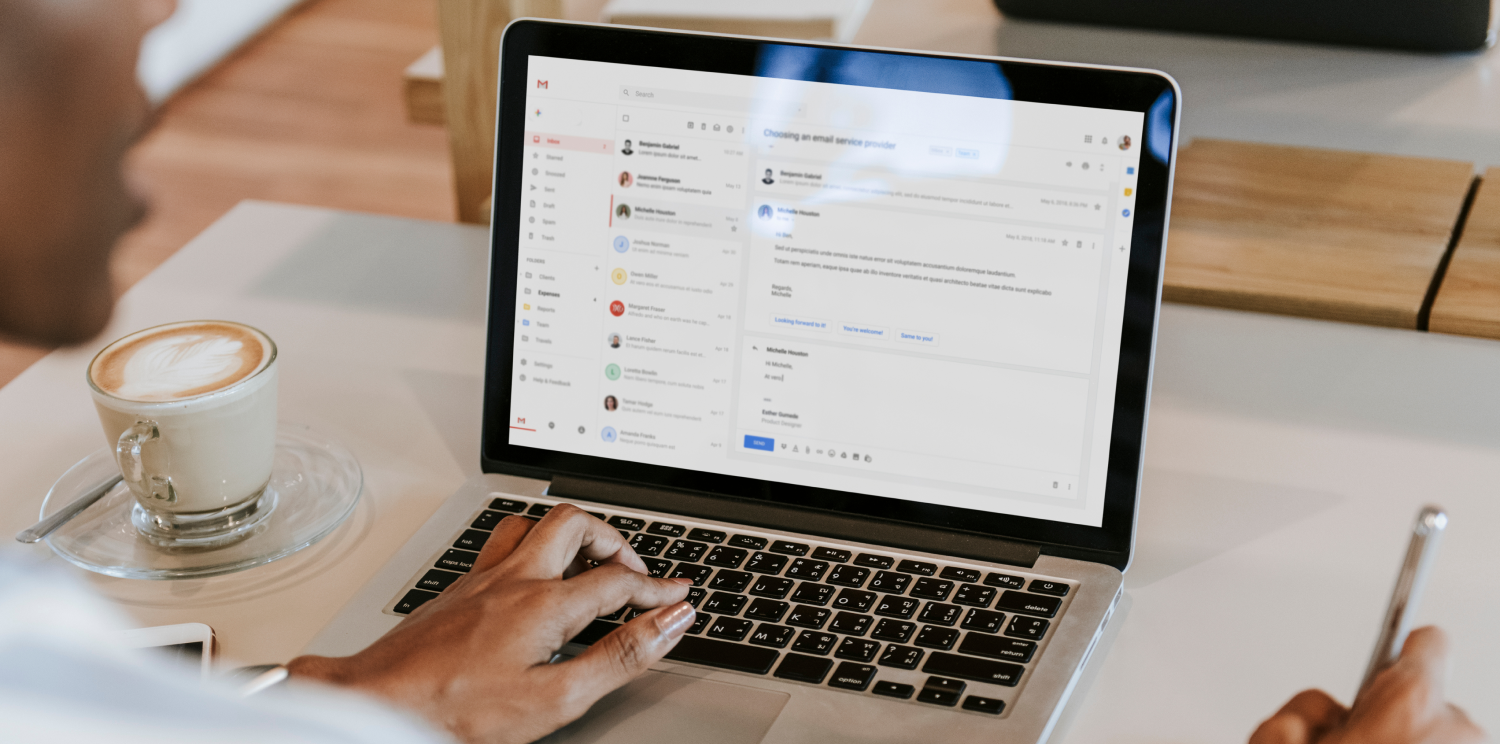 How to pick the perfect email service provider
As your real estate agency or brokerage grows, communication becomes even more important. Email remains a key tool for keeping the conversation open between employees and your clients. Having a reliable email service provider is vital here; the right choice ensures emails are delivered, provides enough storage, keeps your data safe, and has a host of apps and features to take your business to the next level. Choosing the right fit should be done with careful consideration.

What is an email service provider?

An email service provider (ESP) refers to both the company and the platform that provides you with email services. They store email addresses and help you bulk send and receive emails so you can securely communicate with thousands of subscribers at a time.

As the use of these services has risen, a number of ESP companies have sprung up to meet the demand. These typically offer more advanced features such as helping you target and automate your emails better. Of course, this makes picking an ESP more complicated but not impossible.
Choosing your email service provider

Your ESP should work as an extension of your marketing team, providing you with as little stress as possible. If you do a Google search for "email service provider", you'll receive countless options you can use — each with their own pricing plans, features, and target users. Here are some factors or criteria to keep in mind when narrowing down your ESP choice.

Affordability: Your ESP shouldn't break the bank, and must help you bring in more revenue than it costs. Generally, ESP plans include:

• Free services: These are significantly limited in terms of emails, contacts, and templates. They are mainly offered to get you to switch over to a paid subscription.
• Subscription: This is charged on a flat fee monthly, bi-annually, or annual depending on your ESP. They will typically offer you a higher volume of email sends as well as their full features.
• Pay as you go: With this option, you are charged based on the number of emails you send. This works well if your real estate business is small or doesn't send too many emails on a regular basis.

You should review the payment structures of each ESP on your list and evaluate which offers the best value for your budget. You can also test the free options ESPs provide to get a feel for which ESP best suits your business.

Deliverability: This measures how likely your emails are to reach the inboxes of your subscribers. Better deliverability increases your revenue and return on investment so you should pick an ESP with a solid performance for this factor. A good ESP will ensure your emails are not blocked by Internet Service Providers or spam filters and have good reporting tools to keep you on track with your deliverability rates.

Ease of use: You can have an incredible email platform, but if your team will struggle to use it, you won't get your money's worth. Plus, the time your team takes figuring out how to use the platform could be used for other important real estate functions. Opt for an ESP with a user-friendly interface and onboarding and follow-up training to ensure your team is up to speed with the platform. Constant support for any future issues is also welcome. A pro tip is to check user reviews to see what users are saying about the ESP; you'll find usability and assistance will often be highlighted in their comments.

Storage: Depending on how large your real estate business is and how active you are on emails, you will also need to consider your email mailbox size. This controls how many messages you can store at a time. Remember, sending large attachments of property listings can quickly take up storage space. Some ESPs will provide an archiving service to make room in your mailbox for older messages.

Security: With the introduction of the Protection of Personal Information Act (POPIA), data protection has become a priority for real estate businesses. Your emails contain confidential client and staff data so it's important to sign up with an ESP who protects your data and provides back-ups. Most ESPs will provide you with a defence against spam, ransomware, and viruses.

Integrations: Your email won't be the only platform you use. Be sure to check if your ESP can integrate your email with other powerful platforms to enhance the way your agency or brokerage does business. ESPs can provide a suite of tools that help you integrate your email with calendars, project management platforms, customer relationship management platforms, and more.

Extra features: Depending on your business's needs, there might be some ESP features that will be beneficial. Special security features, integrations, filters, and educational resources like knowledge blogs, guides, and webinars that help you maximise your email marketing efforts could be the icing on the cake.

Great email service provider options for real estate

If you've just started your real estate business, picking an email service provider can be daunting. Google Workspace (formerly G Suite) and Microsoft Office 365 are amongst the best options that tick all the boxes. Of course, established real estate businesses should also consider these offerings.

Email service providers are always revising what they offer to keep abreast of their clients' needs. If you're still using POP3 and IMAP mailboxes, for example, you may find they no longer offer the storage space, security, or support you need to remain ahead of the pack.

1. Google Workspace

Google Workspace provides email hosting together with Google's suite of intelligent apps and handy features. There are four plans available: the basic Business Starter, Business Standard, Business Plus which offers the most advanced perks, and Enterprise. Whichever plan you choose, all include these as standard:

• A custom and secure business email @yourcompany
• Phishing and spam protection
• Ad-free email experience
• Meet Video and voice conferencing
• Drive Secure cloud storage (30 GB+ per user depending on your plan)
• Chat Team messaging
• Calendar Shared calendars
• Docs, Sheets, Slides Collaborative content creation
• Additional security options like two-step authentication and SSO, and administrative controls for user accounts

Overall, Google Workspace offers excellent cloud-based tools and has a great reputation for its product offering. Read more about Google Workspace's plans and pricing.

2. Microsoft Office 365

The famous brand provides a number of solutions to help you achieve more. This includes business-class email hosting, innovative Office apps, intelligent cloud services, and world-class security. Here are some of the main email options for real estate businesses:

• Microsoft 365 Exchange Online (Plan 1): This professional mailbox-only solution includes a 50 GB Exchange mailbox (no desktop Office software or enterprise features).
• Microsoft 365 Exchange Online (Plan 2): For users with big mailboxes, this is another mailbox-only solution with an enterprise-grade 100 GB Exchange mailbox (no desktop Office software).
• Microsoft 365 Business Basic: For users that have important data that needs to be stored along with a pro mailbox, this includes a 50 GB Exchange mailbox with 1 TB OneDrive cloud storage.
• Microsoft 365 Business Standard: This is a great business package that includes all the Microsoft desktop software licenses. It comes with a 50 GB Exchange mailbox with Office desktop software, 1 TB OneDrive, and Skype Business.

Find your email service provider match

From the end of September, Prop Data will no longer support all current POP3 and IMAP email services. Clients still on this service should make urgent arrangements to move on to one of these two platforms.

By following this advice, you will make the right decision. If you choose Google Workspace or Microsoft Office 365, Prop Data can assist with the transition to either.

You will still need to find a service provider who can assist you with the migration and your email back-ups. Here's a guide to help you through the process; if you face challenges, you will need to seek the help of an IT specialist or a new service provider to assist you.