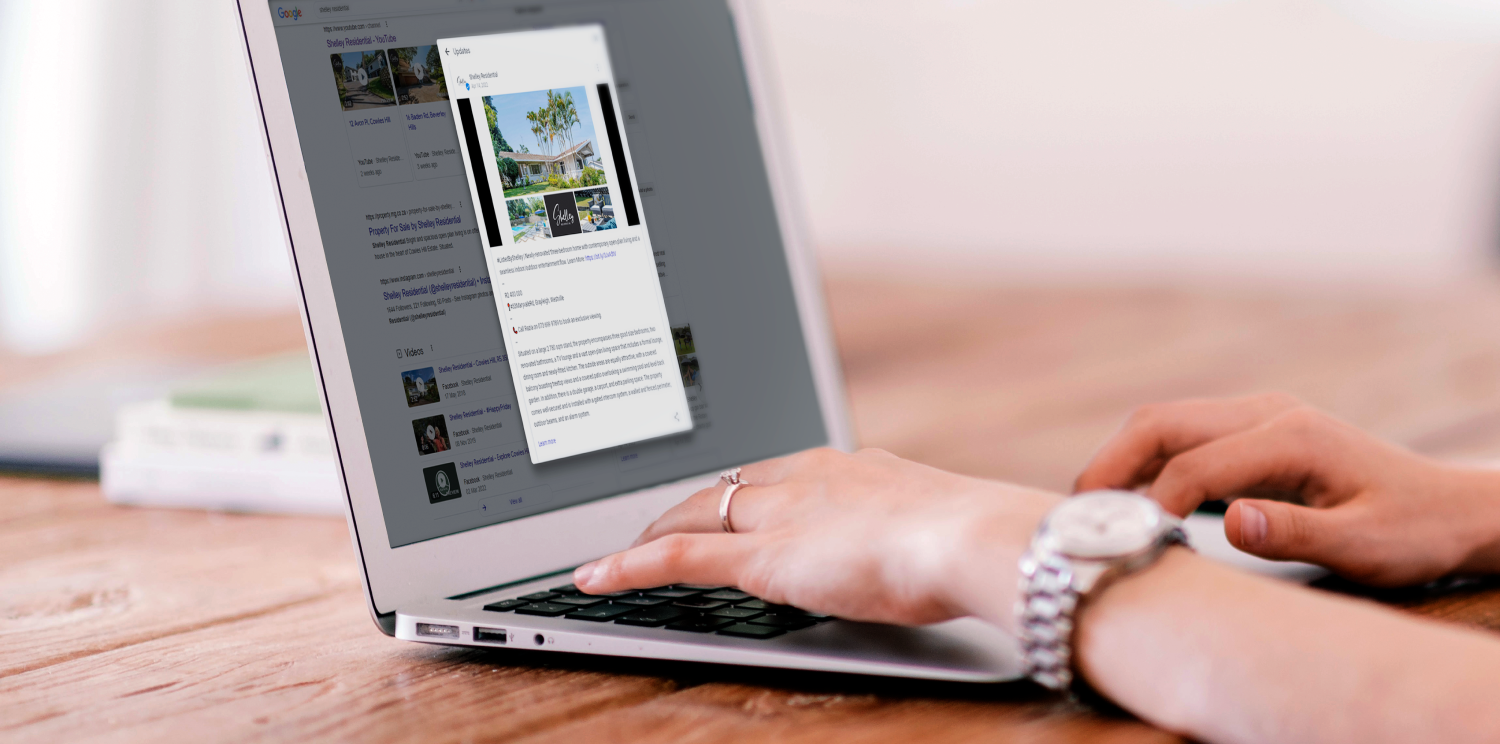 Everything you wanted to know about Google Business Profile posts
You've set up your Google Business Profile listing. Fantastic! This tool is a wonderful way to appear on the first page of local searches and showcase your real estate business. By adding regular posts on your profile, you can also connect with potential and current clients who see your listing. Not only are these posts free, but they provide an opportunity to grab attention before anyone even clicks through to your website. With our guide, you can make Google Business Profile posts work for you:

• Understand Google Business Profile posts
• Learn the importance of Google Business Profile posts
• Discover the benefits of Google Business Profile posts
• What types of Google Business Profile posts you can use
• See where Google Business Profile posts can be viewed
• Get the steps for posting on Google Business Profile
• Apply best practices for your Google Business Profile posts
• Share great Google Business Profile posts by following our examples
• Take advantage of Prop Data's posting service

What are Google Business Profile posts?

Introduced in 2016, Google Business Profile posts have become a popular feature on business listings. These are short, simple, social-media like updates you can use to share information with your audience. Once posted, they appear on the local panel on Google Search and Google Maps.

With posts, you can share COVID-19 updates, offers, interesting news, company events, new products, and services. Each post type has different posting criteria but generally features a photo or video, a description, and a call-to-action (CTA). People who view your posts can share them through Facebook, Twitter, email, or with a short link.

Benefits of Google Business Profile posts

If you have social media platforms, you may wonder if there's a need to also introduce posts to your digital marketing efforts. The answer is a definite yes. With posts, you can truly unlock the potential of your Google Business Profile listing. Here are some of the benefits of using them:

• Communicate with your audience: Posting on Google Business Profile provides an easy way to share your messages with anyone who discovers your listing online. The tool provides a range of post types that can help you share relevant, timely, and engaging messages — at no cost to your company.

• Increase lead generation: Your Google Business Profile listing is often one of the first points of contact with your business. Posting on the tool can help you show what makes your business the right choice for a searcher's needs. By showing products and services, you can potentially sell directly on search without paid advertising.

• Drive traffic to your website: If much of your conversion takes place on your website, these posts also provide an easy click path to your website and landing pages. Depending on the post type, you can add a button to drive searchers to where you want them to go.

• Build your brand: Every post you add to your listing is a valuable opportunity to showcase your brand's appeal. Using clever copy and vibrant images or videos, you can use posts to tell a story as you do on social media. If you're investing time in optimising your listing, you can't afford to neglect posts. These will also help you stand out from other listings of similar companies in your industry.

With all these advantages, Google Business Profile posts are a must-use promotion tool for your business. Plus, it offers different types to help you meet your objectives.

Types of Google Business Profile posts

With Google Business Profile, you have five options to share updates about your business. These have fields each tailored to the kind of post you're creating:

1. COVID-19 update: This post type was introduced in response to the COVID-19 pandemic in April 2020. It allows you to share any changes to your business such as closures or reduced hours, safety and hygiene practices, and visiting procedures.

2. Offer: This post type lets you promote any sales, specials, or discounts for your business's listings or services. You can add offer details, coupon codes, a link to redeem the offer, and terms and conditions. You will also need to specify the start and end date of the offer.

3. What's New: You can use this post type to share announcements and general information about your business. It's a great way to put your brand front and centre with client reviews, team features, and exciting developments.

4. Event: This post type provides an avenue to create a buzz around any events you're hosting or involved with. These can include live events such as charity fundraisers or development launches or online events such as webinars or virtual showings.

5. Products: With this type, you can feature a listing or service. You will need to provide a name and file the product to a specific category.

Using a mix of posts can help you make your listing engaging for viewers. Each type has its own requirements so make sure you explore them thoroughly, especially to prevent any hiccups with last-minute posting.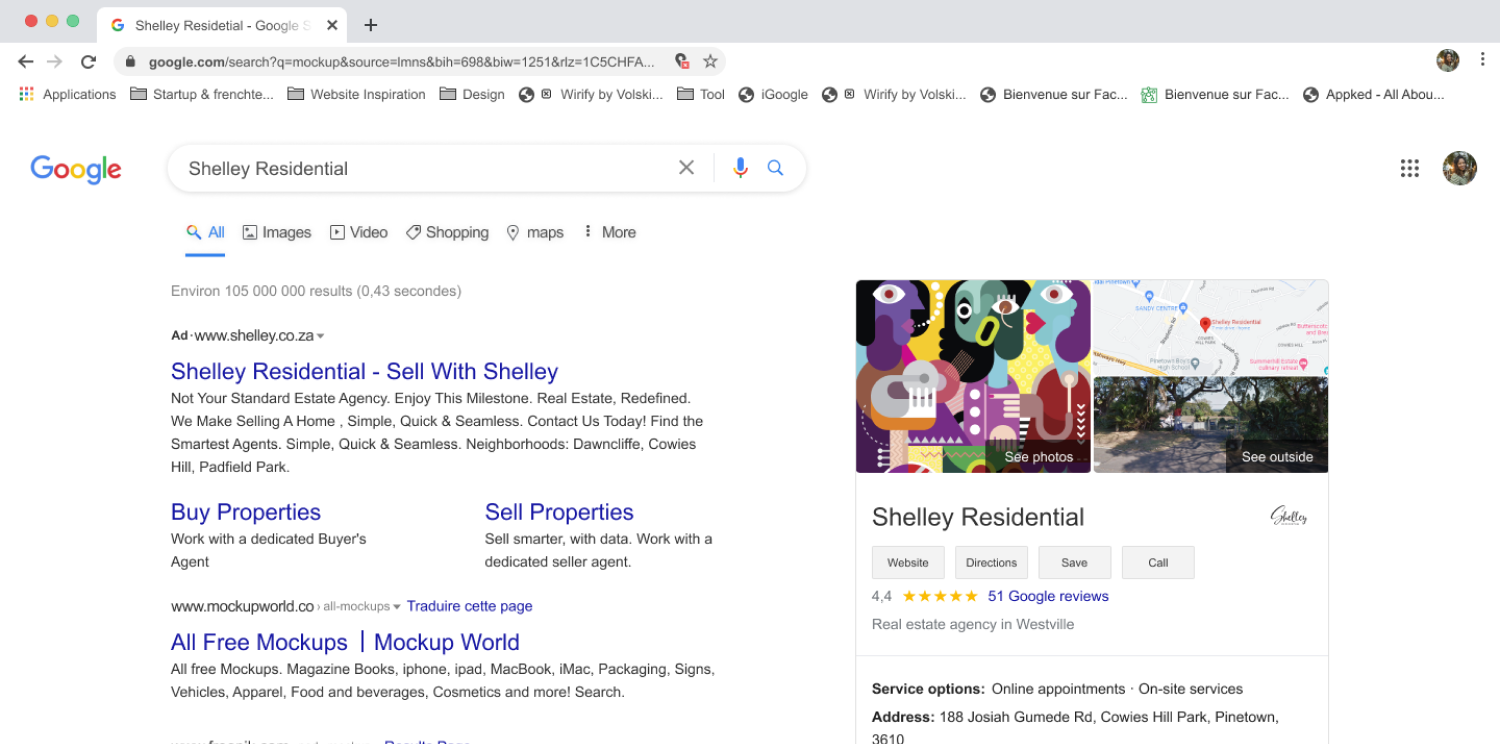 Where can your Google Business Profile posts be viewed?

Whichever post type you choose, it has the potential to gain significant views. Google processes approximately 63,000 search queries every second — and in these searches, your Google Business Profile listing (together with your posts) can appear. Here are the places people can potentially find your posts:

• The "Updates" or "Overview" tabs of the Business Profile on mobile on Search and Maps based on various signals.

• The "From the Owner" section of the Business Profile on your computer on Search and Maps.

If you add updates to your listing, people will automatically be able to see and interact with them. And being so simple to do, nothing should stop you from starting to post immediately!

How to post Google Business Profile posts

Google has made the posting process effortless. It takes just six steps to get your post up on your listing:

1. Log into your Google Business Profile account.
2. Click "Create post" on the home menu. You can also select the "Posts" tab from the menu and click on the blue icon to navigate to the posting screen.
3. Choose your post type.
4. Fill in the required fields and add photos and videos where applicable.
5. Preview your post and edit as necessary.
6. Select "Publish" when you're ready.

An alternative way to post: If you are already logged into your Google account, you can search for your business name on Google to locate your listing. Then click on "Add update" to create a post.

When creating your posts, note that some posting types have limits for text fields. Offer, What's New, and Event posts also have a limit of ten images. Also, here are media guidelines to follow:

Image size:

• Minimum: 400 wide x 300 pixels tall, 10 KB size limit
• Maximum: 10,000 x 10,000 pixels tall, 25 MB size limit

Video size: File sizes (AVI, MP4, MOV, etc.) can be a maximum of 100 MB.

Your Google Business Profile posts will last for as long as you want them to. Previously, posts used to expire after seven days but there isn't a limit now. All your new posts will show in front of older posts. Users will have to click "View all" after scrolling through your postings to see older posts so make sure each hits the mark.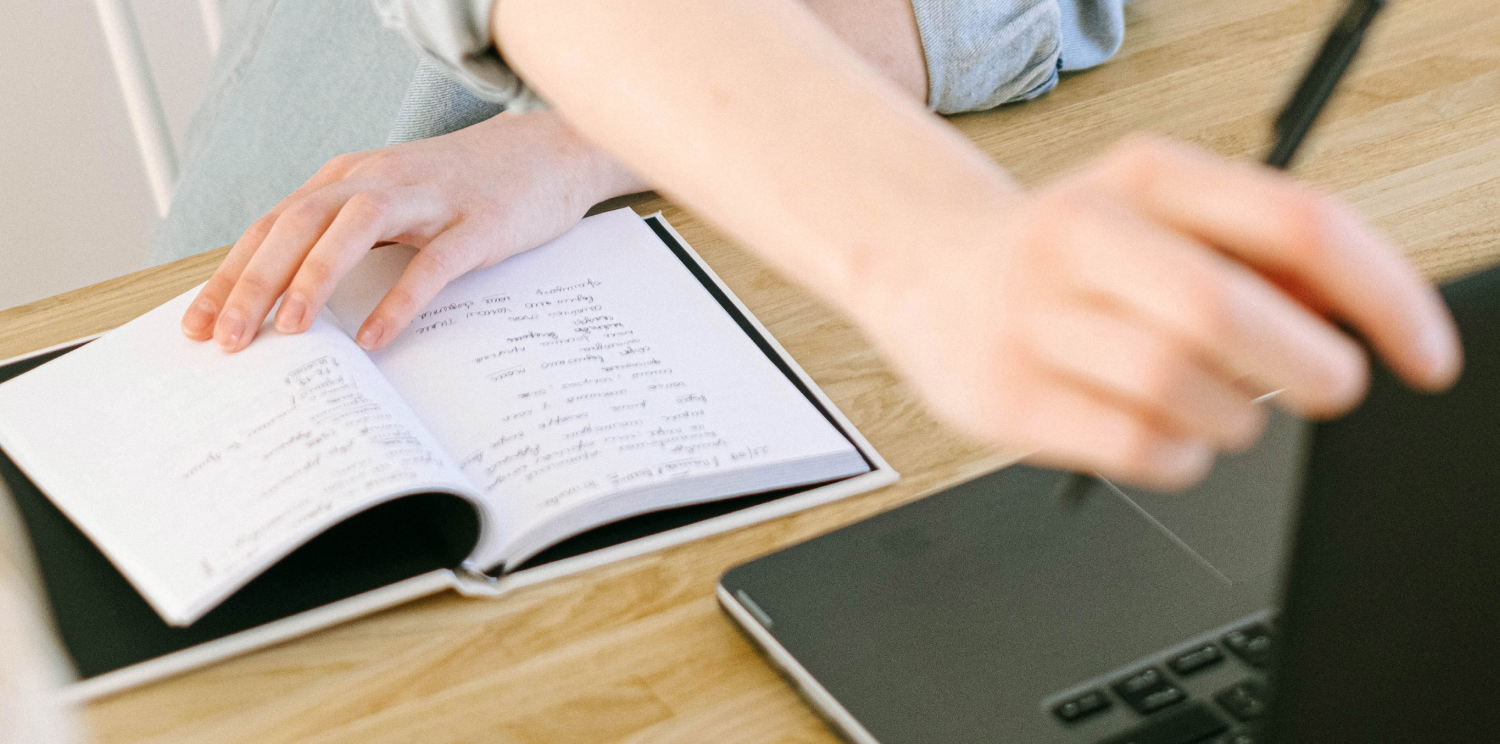 Best practices for Google Business Profile post

Creating a Google Business Profile post is easy. But, how do you create one that gets results? Here are nine tips that will help you whatever the type of real estate you specialise in:

1. Consider your audience: Your posts are an opportunity to interact with users in an engaging way. While sales content should be a part of your mix, try not to focus too much on selling. Instead, entertain, teach, and show why you are a trusted business better than your competition. Be professional but still conversational in your tone and aim to create content relevant to your service offering and area of specialisation.

2. Choose the right post type: As mentioned earlier, Google Business Profile provides five post types. Each is designed to help you with a specific purpose so think carefully about what you wish to achieve. For example, there are posts to feature your listings, sign up people for events, or highlight a service price reduction.

3. Keep your copy short and sweet: You're allowed up to 1,500 characters with each post. While this is a lot of text to play with, it's best to keep your posts concise to hold the attention of readers. The ideal length is between 150-300 characters and you should aim to bring in your most important information in the first paragraph. As a side note, all text should be proofed for spelling and grammatical errors.

4. Make media choices impactful: Your visuals play a vital role in the success of your posts. Ensure photos are high resolution, well lit and in focus. If you use stock images and videos, choose those that are as authentic as possible. Both photos and videos should be uploaded in the accepted formats.

5. End with a strong CTA: A CTA (e.g. sign up, learn more) encourages potential clients to take the next step. While posts with buttons will provide a CTA, there's nothing stopping you from adding them to your post description. You can also use actionable language within your post title and description to drive engagement.

6. Link to a great landing page: If you're linking your post to a landing page, ensure this page provides a stellar experience for users. You can make your post as well written and enticing as ever but it will mean very little if your landing page experience pales in comparison.

7. Abide by Google's content policy: Google aims to create a positive experience; they have taken a strong stance against content that is off-topic or irrelevant, misleading, inappropriate, or infringes on the privacy of users. The platform has a comprehensive list of prohibited content and rules — familiarise yourself with them to ensure your posts are not removed.

8. Stick to a regular posting schedule: With fresh content posted regularly, your Google Business Profile listing will be more effective. Not only will new content provide extra opportunities to entice repeat views, but sustained storytelling will strengthen your brand's efforts. Try to post on a weekly basis at the minimum.

9. Evaluate your efforts with insights: You're investing time and effort into your posting. It makes sense to check out the performance to see what's working. Google Business Profile provides insight into your clicks and views. By using this information, you can create more of the content that your listing viewers want to see.

With these best practices, you're sure to produce posts that attract, inspire, and convert. The key is to start with your audience in mind and fill your listing with content that will resonate with them.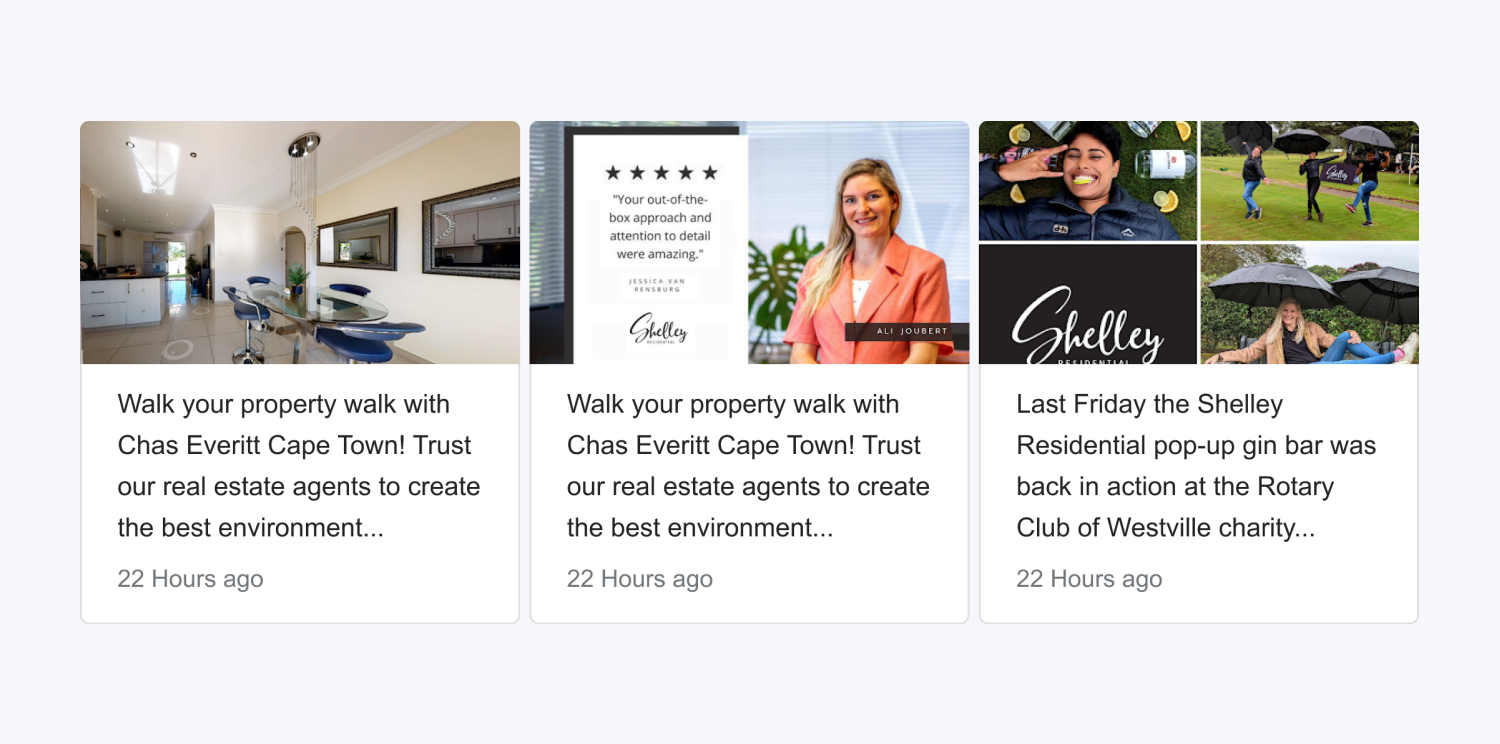 Good examples of Google Business Profile posts

If you've ever wondered "what should I post on my Google Business Profile page?", you're not alone. It can be daunting for real estate businesses to make their listing as appealing as possible. Here are some great options to start with:

• Property listings: Showing recently listed, sold properties, and reduced properties is a smart way to market the types of property you specialise in. However, be sure to balance this with less sales-driven content.

• News articles: Your content is created with your audience's pain points in mind. Promoting them as posts on your listing will add value and give your blog more traffic.

• Testimonials: Positive client testimonial posts can help affirm your business's credibility and reliability. Positive team testimonials will aid your recruitment efforts by positioning you as an employee of choice.

• Quotes: Posting quotes from your team, experts, or great motivators can make your listing more engaging. Be sure to choose quotes that align with your brand's personality.

• Events: With posts, you can boost sign-ups for development launches or views for your virtual showings and presentations.

• Team spotlight: Team posts can help humanise your brand and celebrate the people that make your business successful. This can include welcomes for new employees, anniversaries, promotions, and team-building events.

• Announcements: Show your business is active with posts on your new partnerships, services, branches, areas, awards, and social outreach. Remember, an active business is a thriving business and one people will be more likely to connect with.

These are just a few posts you can implement on your listing. There's nothing stopping you from approaching client-facing team members for ideas. Also, don't forget to use Google Business Profile's insights to see what's making an impact.

Start posting with Prop Data

Your Google Business Profile listing is a must-have platform to spread important information about your real estate company. The viewers you receive are those already searching for you. You can make a brilliant first impression with posts.

If you need help, Prop Data's monthly management services can add fresh content to keep your listing in tip-top shape. Contact your Account Manager or visit our add-ons page to get started.