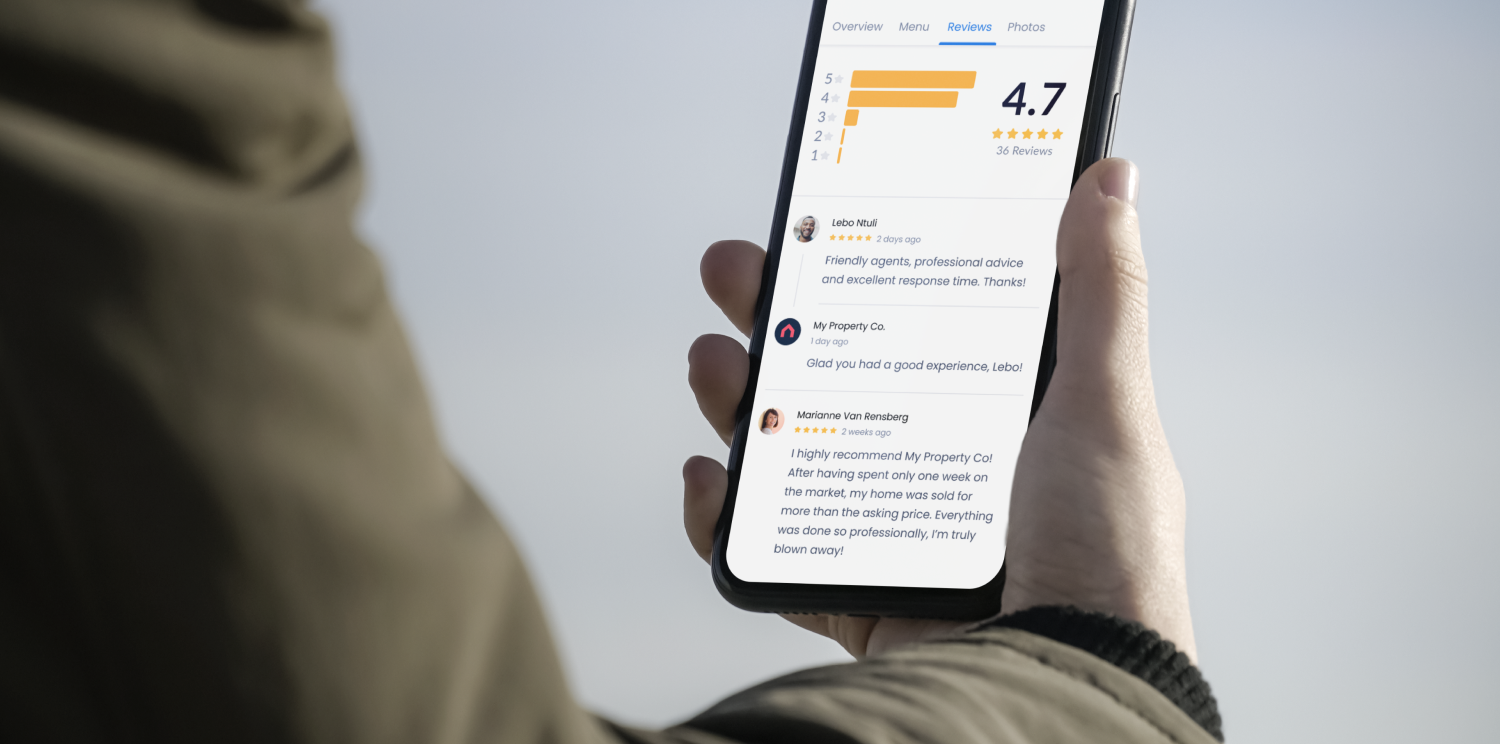 Google Business Profile reviews: give your reputation a boost online
It's estimated Google processes approximately 63,000 search queries every second. With so many people turning to the search engine to find real estate services, you need your Google Business Profile listing to be in tip-top shape. An important part is your reviews section. It has the potential to offer powerful social proof that ensures your business is chosen over your competitors. Our guide helps you get the most out of Google Business Profile reviews:

• Understand Google Business Profile reviews
• Learn the importance of Google Business Profile reviews
• How Google calculates your review score
• Get insight into an ideal Google Business Profile review score
• How to get more Google Business Profile ratings and reviews
• Responding to Google Business Profile ratings and reviews
• Ways to use your Google Business Profile reviews

What are Google Business Profile reviews?

Like Hellopeter, Foursquare, and Facebook, Google gives people the opportunity to review your business on your listing. The review is made up of a rating and a text description. The rating is done on a scale from 1 to 5 stars, with 5 as the highest rating. People can leave a rating without writing a full review.

Your reviews appear on your Google Business Profile in Search and Maps:

For Search, a person can directly search for your business and your Google Business Profile listing will appear with your reviews. They can also search for a real estate business or service near them and your Google Business Profile listing could potentially appear in the local 3-pack, together with your reviews.

For Maps, a person could search for a real estate business or service near them within the platform. Your Google Business Profile listing can appear in the list of suggestions, together with your reviews.

In real estate, you're familiar with the phrase "location, location, location". Google Business Profile also encourages you to consider "reputation, reputation, reputation". Your reviews have an incredible impact on your business's trust and credibility in the eyes of current and potential clients.

Why are Google Business Profile reviews important?

Without investing time in nurturing positive reviews, you're missing out on an opportunity to increase your company's reputation and ROI. Google Business Profile is a lead magnet, and reviews make up a huge part of this. Here's how:

Increase brand trust: Buying, renting, and even selling property is a considerable investment for clients. They'll likely turn to online reviews to figure out if your agency or brokerage is a good fit for their goals. Having a high rating and positive reviews shows them your business is capable of doing the job. Because Google frowns down on buying or incentivising reviews, they also act as an authentic way to gauge your business's level of trust.

Boost your online exposure: Google Business Profile reviews do have an impact on Google's local search. For example, they influence whether you appear in Google's local 3-pack and what position you take. Google takes your reviews and ratings into consideration so working on these criteria can help you step up your SEO performance.

Improve your website click-through rate: The objective of SEO is to drive traffic to your website. When a person sees your Google Business Profile and all your glowing reviews and high star ratings, they have more of an incentive to get clicking. Businesses that spend time on their reviews can see instant website traffic for their listings and services.

Get valuable client insights: Your reviews are a fantastic way to look into the marketing mirror and see how people view your brand. Positive reviews can show what is working in your business from the service you offer to how your staff engage with the public. Negative reviews can display what you need to improve. Responding to these bad reviews shows you're willing to work on issues and grow into a better business.

Use it for marketing material: Received fantastic reviews? Great! With permission, your positive reviews can be shared across your marketing from your website, social media platforms, to your emails. Don't be shy to show what your real estate is achieving in the industry.

The bottom line is that Google Business Profile reviews offer your agency or brokerage a wealth of advantages. From maximising your ROI, being a feedback channel, to offering enhanced visibility, you can get great results.

How Google calculates your review score

According to Google, it calculates your review score based on user ratings and a variety of other factors. These calculations make sure the overall score best reflects the quality of the business or place.

Previously, Google used the Bayesian average to calculate your score. However, they've now switched to the arithmetic way to calculate an average. Here is a formula you can use:

(stars received / maximum possible stars) × 5 = your star average

For example, XYZ Real Estate has received the following:

• 18 five-star reviews
• 2 four-star reviews
• 2 three-star reviews
• 1 one-star review

Their score would be calculated as: (105 / 115) x 5 = 4,6 score.

If you find your score isn't reflected accurately, give it some time. After someone leaves a new review, it may take up to two weeks to get an updated review score.

What's a good Google Business Profile review score?

Contrary to what you might think, a perfect five-star review score isn't going to land you more conversions for your business. A study by PowerReviews and Northwestern University's Medill IMC Spiegel Digital & Database Research Center found an overall average star rating between 4,2 and 4,5 is the ideal. In this range, the likelihood of purchase peaks for products.

The study also found that products with five-star scores are, in the eyes of the consumer, too good to be true. The nature of the real estate industry is fast paced so it's natural for a grumpy client to pop up or a team member to have a bad day. So, if you get the odd bad review, don't let it bother you.

Beyond the actual score, the number of reviews you receive is an important factor to consider. Having ratings from different sources and detailed reviews provides better context on the quality of service you provide.

The frequency of ratings and reviews you receive is also worth noting. Over a third of those PowerReviews surveyed (38%) indicate that if all reviews for a product were published three months ago or more, they'd be more likely to purchase a different product from a competitor with more recent reviews. You should thus nurture your ratings and reviews consistently.

Sourcing Google Business Profile ratings and reviews

Without effort, it can be difficult to boost your Google Business Profile rating and source reviews. Even the happiest of clients need a nudge to share their experience on your listing. You can help get the ball rolling while keeping the following rules in mind:

• You shouldn't buy or incentivise reviews. Besides Google disallowing it, you want your business service to be touted authentically. Online searchers are savvy and can spot fake reviews a mile away. Paying for reviews or offering discounts on services for reviews is also not allowed.

• You can ask for reviews but you shouldn't blatantly discourage a client from leaving a negative review or encourage a positive review.

• You shouldn't solicit reviews from customers in bulk. Google doesn't define what it means by bulk solicitation. However, to comply you should aim to source a review at the point of a sale or after interactions with your team.

By ignoring these requirements, you run the risk of being flagged by Google's algorithm and having your reviews removed.

To start increasing your Google reviews, you should create a short Google reviews link. By sharing this, your clients can directly add a rating and review to your listing. On the homepage of your Google Business Profile Manager, scroll to the "Get more reviews" section and click on the link to generate your unique URL. You can share your URL in these ways:

• Thank you emails when you close deals
• At the end of chat and email interactions
• Posts on your social media platforms
• In QR codes that can be displayed at your office/s

In this way, you'll see a noticeable surge in the number of reviews on your listing. It can be daunting to solicit reviews that could potentially be negative. Remember, these reviews are also valuable and can help you make necessary changes to your business.

Responding to Google Business Profile ratings and reviews

You should respond to every rating and review you receive on your Google Business Profile listing. Besides showing thanks for any positive feedback, responding can mitigate bad experiences, show how your business is improving, and establish a rapport for future sales. A good response can go a long way in humanising your brand. Here are the steps to respond to positive, mixed, and negative ratings and reviews.

Responding to positive ratings/reviews: It can be tempting to overlook positive words in favour of dealing with the negative feedback. However, this would be a missed opportunity to show your appreciation and encourage repeat business or referrals.

• Step 1: Thank the person using their name. Be concise and personal as possible.
• Step 2: Acknowledge a specific part or parts of their great experience. If they have provided mild criticisms, show how you're working to improve that part of their experience. If it's just a rating, you can skip this step.
• Step 3: Express your hopes they will use your services again in the future or continue using your services.
• Step 4: If the review is golden, consider asking them for permission to use it in further marketing material.

Responding to mixed ratings/reviews: Three-star ratings can be tricky. Wording that has mixed or balanced sentiment can also mystify you when you're ready to respond. Don't let it deter you. Prospective clients will often look at these reviews as they tend to provide a more realistic look into your business over glowing praise or disgruntled reproval.

• Step 1: Thank the person for reviewing your business. As with positive reviews, be concise and use their name to be personal.
• Step 2: Acknowledge the positive aspects of their experience. Apologise for the negative aspects and indicate how you're working on them. If the review is balanced, show appreciation for their review and a commitment to becoming a better business.
• Step 3: Express your hopes they will use your services again in the future or continue using your services. You can also encourage them to contact your business for further insight into improving their experience.
• Step 4: Conclude by expressing your hope they will update their review once you've made changes in the future.

Responding to negative ratings/reviews: Even the best real estate businesses can't escape the occasional bad review. The way forward is to respond quickly, empathetically, and above all, professionally.

• Step 1: Address the reviewer by name and thank them for reaching out and sharing their experience.
• Step 2: Apologise for their poor experience and show sympathy for the results they experienced.
• Step 3: Instead of making excuses, take responsibility for their experience and show how your business will go about making it right or improving for the future.
• Step 4: If your actions can't be communicated in a single response, invite the reviewer to contact you so you can assist them directly.
• Step 5: Ask them to experience your business once you've rectified the issue (you can update your review to reflect this). At this point, you can even ask them to update their review if you've made significant improvements to cover their issues.

Not all reviews will be worth the effort of a response. You may find some reviews are fake, profane, spam, off topic, or show a conflict of interest (e.g. from a competitor). If you find such a review, you can report it and have it removed from your listing reviews section.

Ways to use your Google Business Profile reviews

With consumers becoming warier of who to trust, you can put your best foot forward with the positive reviews received. Use your reviews across your marketing channels to show your real estate business can help people get the results they need.

Even though a review might be provided for your listing, Google requires you to gain permission from the reviewer — you don't automatically gain the right to use their words as you please. You can reply to the reviewer to ask for permission or have your team reach out if they have their details available. Once they do so, you can jump into action. Google Business Profile has a marketing kit that can turn your reviews into videos, posters, social media posts, and more. Or, get your design team working on collateral for:

• Website pages
• Landing pages
• Website banners
• Testimonial sliders
• Emails such as newsletters, promos, etc.
• Email signatures for your daily communication
• Paid adverts on social media and Google
• Social media posts
• Blog posts
• Office posters or block mounts

When using reviews, try not to paraphrase or edit the reviews significantly. It's fine to shorten sentences and correct spelling and grammatical errors. However, you should never change the meaning behind the reviewer's words.

Put your review strategy in place

Google Business Profile is a powerful tool to increase sales, enhance your brand awareness, and get feedback. Having a steady stream of positive reviews will ensure your listing fulfils your objectives. Prop Data can help you leverage it with these services:

• Set up service if you need a Google Business Profile listing
• Google Business Profile post service that can drive ratings and reviews
• Design and development services to include permitted reviews on your website, emails, and other platforms.

Contact your Account Manager or visit our add-ons page to get started.