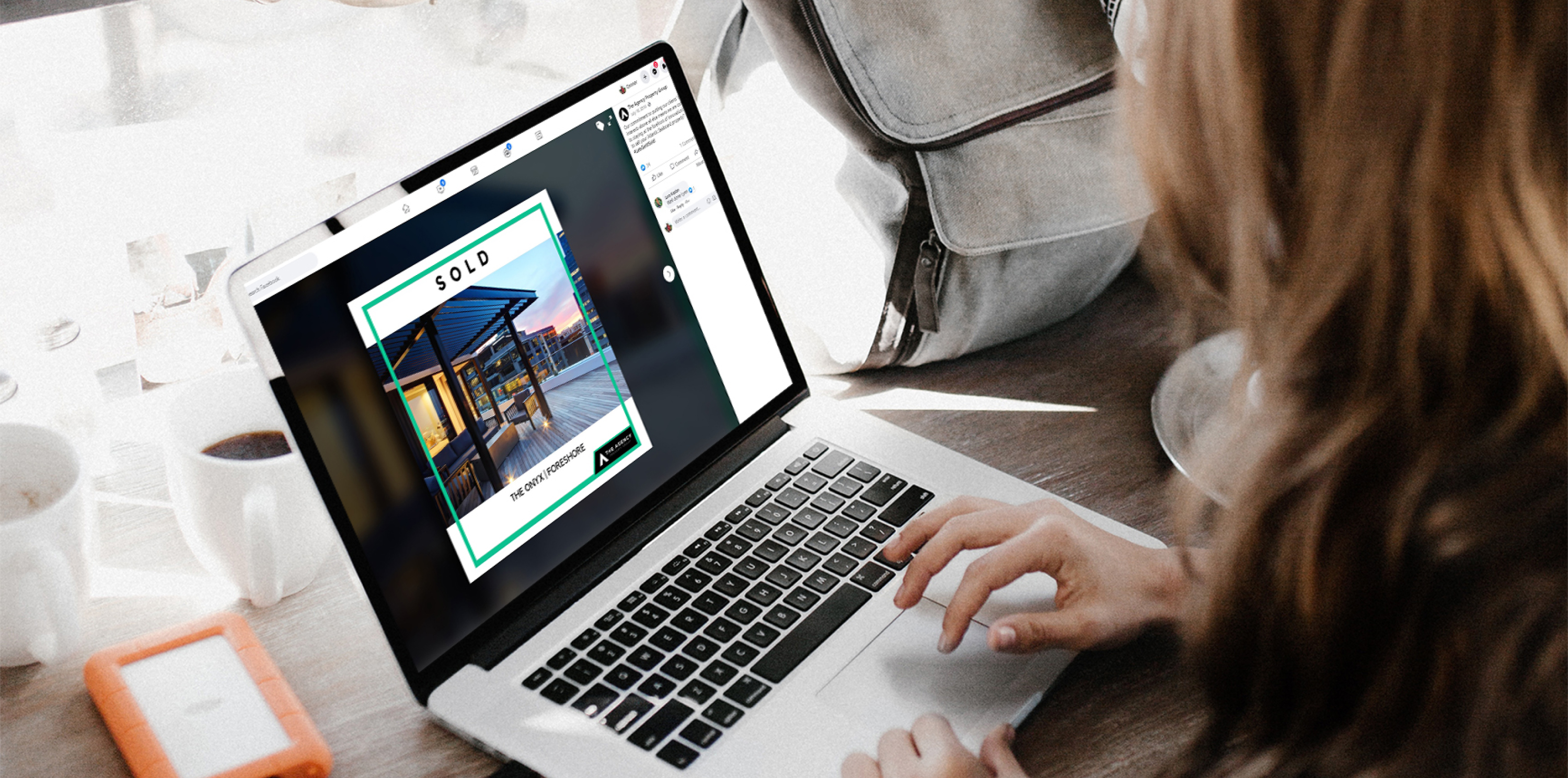 19 Facebook organic post ideas to grow your business
You've read about the benefits of Facebook organic posts. You've done some research on best practices and, perhaps, even taken a course. Now you're ready to put what you've learnt into action. To get those creative juices flowing, here are some real estate post ideas your clients will love.
Property showcases give clients a peek at your properties for sale and to let. With Facebook, you have plenty of visual options to show off your listings.
1. Slide shows/videos: Videos continue to dominate the platform. For a fuss-free option, post a slide show made up of 3 to 10 images.
2. Collages: With most photo apps, you can create a vivid collage of your listings or services. Look how PentaProp Properties sells both the lifestyle (beach) and the property amenities in their post.
3. Photo carousels: These let your audience scroll through listings, services, listing features, area agents - really, you're only limited by your goal and imagination!
4. Photo album: Your audience are visual creatures. Photo albums can show them a mix of eye-catching images centred around a theme.
Potential and current clients aren't the only ones on Facebook. You can use your organic posts to find and connect with new hires for your agency or brokerage.
5. Meet our team: Shine a spotlight on the faces that make your team great. See how The Agency Property Group highlights Lynn's experience, achievements, and client aspirations.
6. Agent profiles: You can direct traffic back to your website by posting a link to agent profiles on your website.
7. Recruitment drives: Team testimonials are a powerful way to attract candidates. In this post, RealNet's Pop Loock speaks earnestly about her career at the company.
8. Q&A: Pose a question to your team or draw from blog interviews to highlight the benefits of working at your agency or brokerage.
9. Achievements: Giving your employees a social pat on the back can boost staff loyalty and impress future employees with your positive company culture.
Homebuyers and renters care about the neighbourhood or community they're investing in. Your Facebook organic posts can help you sell the area's most desirable features.
10. Area profiles: All content on your website are fair game for Facebook organic posts. You can help your area profiles gain more traction by sharing them on the site.
11. Local attractions: Don't have an area profile? You can still highlight events, area landmarks, and points of interest.
12. Fun facts: Pointing out colourful parts of an area's history can entice potential homebuyers and renters. In this example, PentaProp Properties touches on Bloubergstrand's famous water activities.
Facebook organic posts can help you trumpet your business's milestones. If you've sold a listing, assisted a renter, or gave back to the community, share it with your audience.
13. Sold listing: Boasting about sold listings signals you can get the job done. The Agency Property Group uses this post to position themselves as Atlantic Seaboard property experts.
14. Testimonials: Again, testimonials from satisfied clients can work wonders. When choosing testimonials, make sure they provide a detailed account of the client's experience.
Your brand sets you apart from your competitors. Use Facebook organic posts to promote your brand identity in an engaging way.
15. Brand: From the copy to the design aesthetics, your post should communicate your brand value. Natal Property Consultant shows the value they bring to the table.
Agencies that take the time to educate clients and potential clients are the ones that succeed. You can display your expertise and insight using these post types.
16. Industry tips: Clients want to make a smart move when buying, renting, or investing. They turn to you for advice and Facebook is another avenue to give them industry insight.
17. Trending news: Build a reputation as a trusted and thoughtful industry leader by sharing topical, relevant, and quality content.
It's a good idea to shake things up and post content which entertains or inspires your audience. You can post light-hearted content while still staying true to your brand.
18. Motivational: These posts can help your audience associate your brand with positive feelings and give them the nudge needed to invest in your offerings.
19. Occasional: Posting about auspicious days, seasonal changes, and events bring you closer to your client. When done correctly, they have the potential for virality.
Keep your brand's feed fresh
Facebook organic posts provide so many opportunities to help your real estate business. If you're intimidated or don't have the time - that's okay. Prop Data's affordable new Facebook package can do the heavy lifting for you.
For only R3,935 PM*, get three weekly posts written, designed, and uploaded to your page. The package includes a tailor-made strategy for your business and reporting so you can track your progress. *Ts & Cs apply.