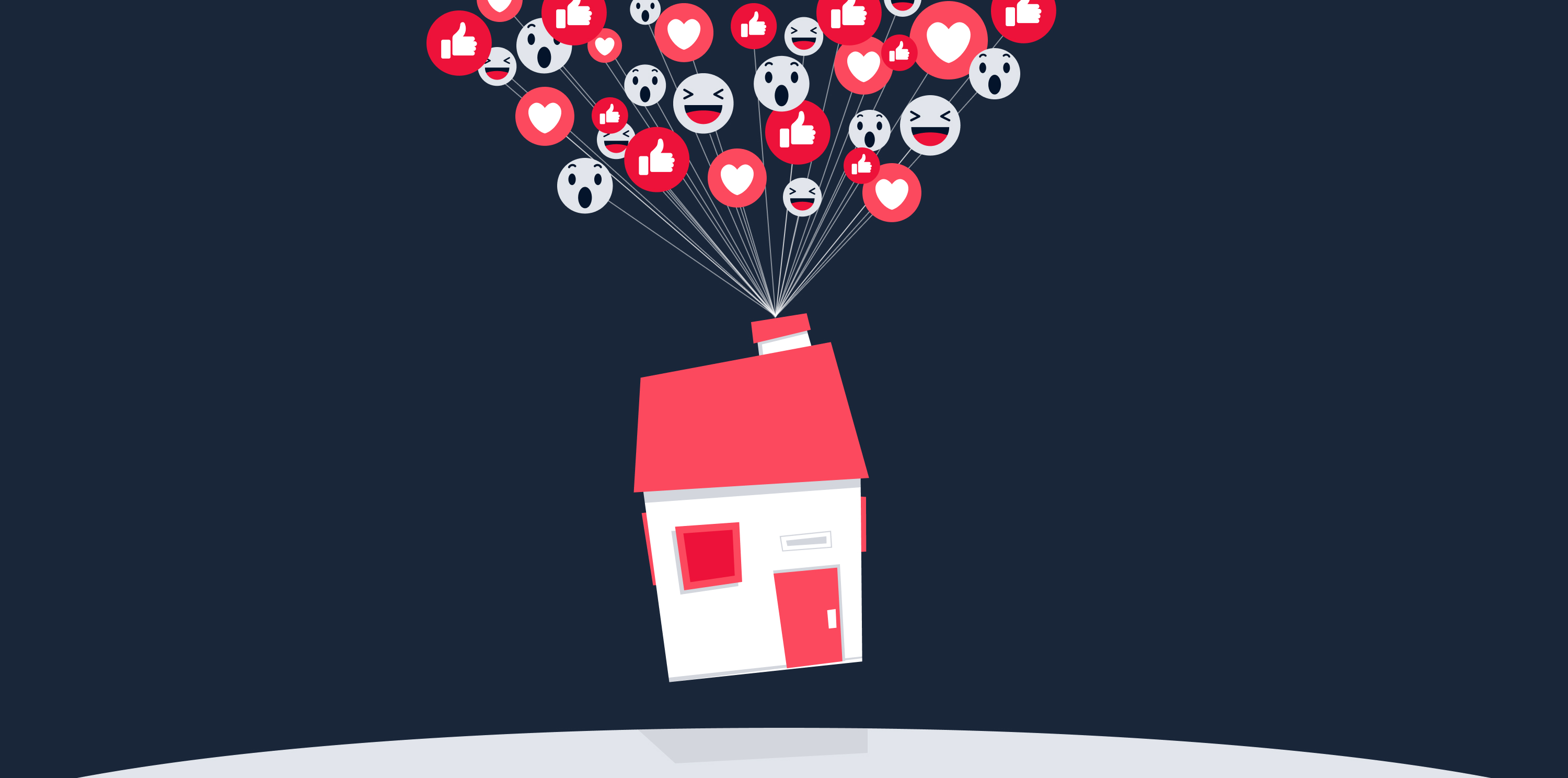 Facebook organic posts boast big real estate benefits
In real estate, exposure is everything. You can have the best listings and services. But, if they're not on the radar of potential clients, you won't make sales or broker deals. Social media sites like Facebook give you that extra push. With over 2.6 billion monthly active users, Facebook allows you to market to a huge audience and get results. And for that, Facebook organic posts can help you rise to the challenge.
What are Facebook organic posts?
Facebook organic posts, also known as non-promoted posts, are shared for free on your Facebook page. These posts reach your followers and the people they choose to share them with. There are no ads or paid distribution involved.
Facebook organics posts include links, photos, videos, polls, and stories. With this variety, you have an excellent platform for your real estate business's creativity. It gives you the space to post about your listings, market news, company updates, and announcements.
Facebook organic posts benefits
1. Facebook organic posts are free
Facebook organic posts are a budget-friendly weapon in your marketing arsenal. You only need to invest time in it. That can involve writing copy, creating images, videos, and uploading it. Remember, you can source free pictures from Unsplash, FreePik, and Pixabay. Free videos can be found on sites like Pexels and music on YouTube.
2. Facebook organic posts are good for your SEO efforts
In 2015, Facebook started to allow Google to index some of its content. This includes public posts, profiles, and business listings. This means your posts could potentially get featured in results, giving you even more visibility in searches.
3. Facebook organic posts have staying power
At least compared to Facebook paid advert, they do. Paid adverts run for the set period you've paid for. Organic posts, on the other hand, remain up inevitably. Once posted, they can continue racking up likes, comments, and shares as people discover them on your page.
4. Facebook organic posts build brand awareness
Facebook is an influential platform in the decision-making process. Facebook helps you jump in and position yourself as the best choice for potential clients. With organic posts, you can tell your brand story in engaging formats. There are also few restrictions on the messages you put out.
5. Facebook organic posts give you credibility
What do people often do after they visit your website, see your advert, or hear about you? They check out your social media page. By posting helpful, interesting, and inspiring content, you cement their impression of you as a trusted and established real estate expert.
6. Facebook organic posts can engage staff
When your team feels valued, they feel happier and do great work. Posting organic Facebook posts can help you create a recognition-rich culture. Single out employees for stellar performances, show off team-building exercises, workshops, or positive client reviews. By showing your company's softer side, you can even improve recruitment drives.
7. Facebook organic posts provide insights
With your Facebook page insights, you can see which posts people liked, commented, and shared. This can help you understand your potential client better and revise your marketing strategy to target them better.
Facebook organic marketing is on the up
In Prop Data's Real Estate Professional's Survey, social media emerged as a top priority platform. 49% of real estate professionals said they believe social media and paid advertising campaigns will deliver the best quality leads over the level 3 lockdown and going forward. Businesses leaders also felt the same. 49% said they saw their best quality leads coming from social media and paid advertising.
Interestingly, 53% of real estate professionals indicated that their biggest marketing focus will be on social media, ahead of property portals, while 60% of business leaders agreed.
Clearly, the advantages of social media platforms are resonating with the real estate community.
Get original Facebook content
To help agencies and brokerages, Prop Data has launched an affordable new Facebook package. For only R3,935 PM*, get three weekly posts written, designed, and uploaded to your page. The package includes a tailor-made strategy for your business and reporting so you can track your success. *Ts & Cs apply.