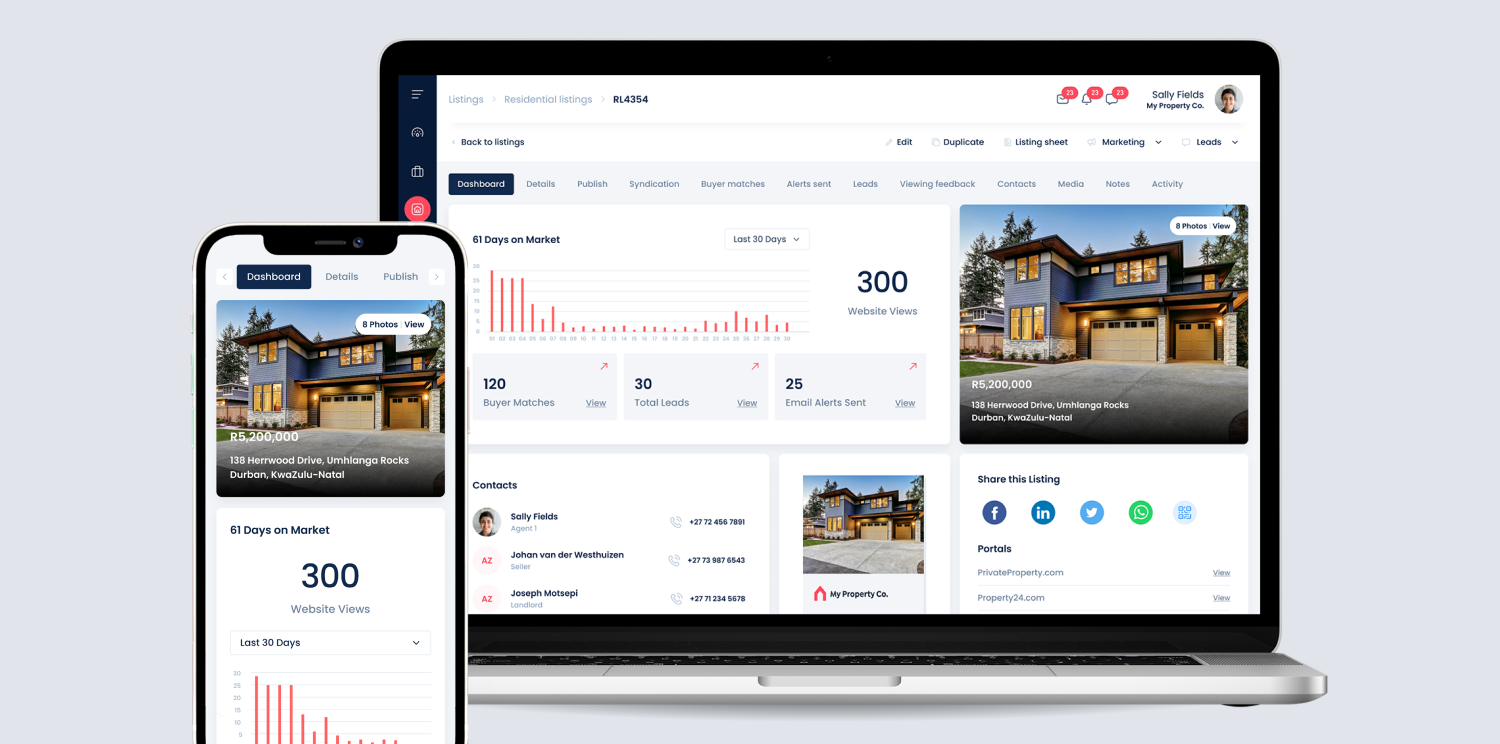 The big benefits of an end-to-end management system
Real estate's future is tech forward. As an agency or brokerage, these are exciting times but also a challenge. You will likely find your business spread thin across multiple software tools. Each brings its own costs, learning curves, and data risks. What if you could streamline your operations with just one solution? The answer is simple: end-to-end management systems can assist with all of your daily functions, in one place.

What is an end-to-end management system?

An end-to-end management system addresses all of your business needs and processes in one centralised hub. It provides all of the features you need to complete your workflow from start to finish. In doing so, it takes away the stress of switching between third-party platforms for each task.

Whether you're a principal, agent, administrator, or marketer, a real estate end-to-end management system holds many benefits. It streamlines and automates your daily tasks, enhancing your effectiveness.

Benefits of end-to-end management systems

End-to-end management systems can be used across all industries. However, they have great advantages for real estate businesses in particular.

Work smarter: Real estate businesses, especially full-service agencies and brokerages, have many different functions that need to be accomplished. An all-in-one solution cuts out or reduces the need for a middle man. From one platform, you can upload and manage listings, push to property portals, keep leads warm with newsletters and content, and track sales across the sales funnel as well as report in detail on any data set housed within the system.

Cut costs: Signing up to multiple software systems can impact your bottom line. You will also have to deal with fee increases separately. There's also the matter of employee time being wasted. Having your team work with different systems takes effort as well as the time needed to learn new individual systems. Using just an end-to-end management system boosts productivity and helps you save money.

Increase efficiency: End-to-end management systems allow for data to flow freely across the business, without the need for it to be transferred from one source or tool to another. With your client data in one place, it makes generating reports and analytics much easier. By working with one development team, you can enhance how your end-to-end management system works for your business without having to worry about compatibility issues.

Ensure safety: Working with different platforms places client data at an added risk of being exposed. Having your operations take place from one platform gives you more control over how it is processed and protected. With POPIA calling on businesses to take care of client data, you can't afford to risk a breach.

Learn easily: Your real estate team is people-focused, not tech-focused. With different systems, it means more time needed to master each one. An end-to-end management system means training is constrained to just one platform. This helps new agents and brokers get up and running faster. If there are any new upgrades, it will be on a platform they are already familiar with.

EOS4: a real estate end-to-end management system

Through working closely with real estate businesses, Prop Data understands the frustrations that come with multiple software usage. You are overwhelmed by the number. Each can be difficult to master and time consuming. Your data is fragmented across these platforms. Finally, you end up spending a sizable amount to access the technology you don't have.

EOS4 (Prop Data Manage) provides an all-in-one platform that helps you grow. It's mission control for all your business activities from branding, marketing, to sales. It can be used by all real estate professionals (agents, principals, directors, etc.) and by all real estate businesses (sales, rentals, holiday lettings, etc.).

As an end-to-end management system, EOS4 provides an easy-to-use platform with every tool an agent or broker needs. It provides automatic data management with seamless integration and interoperability between functions. It is affordable, allowing you to choose a package to start, grow, or scale your business.

Signing up to EOS4 will allow your real estate business the chance to be part of an evolving platform. Prop Data plans to make EOS4 a dynamic environment. It will host a marketplace that will allow you to sign on for a third-party solution or service. Whether you're looking for a custom brochure or a new template for your website, EOS4 will connect you with both a library of pre-developed assets or connect you to an approved third-party contributor for more custom requirements.

Invest in an end-to-end management system

In a competitive real estate climate, working smarter, faster, and more affordably will help you keep up. An end-to-end management system is the cornerstone of your digital growth, providing all the features you need to run your business in one place. Choosing a platform like EOS4 will ensure your business continues to innovate well into the future with the system's aggressive road map of features. To get started, talk to our team about our two product plans: Launch or Grow.