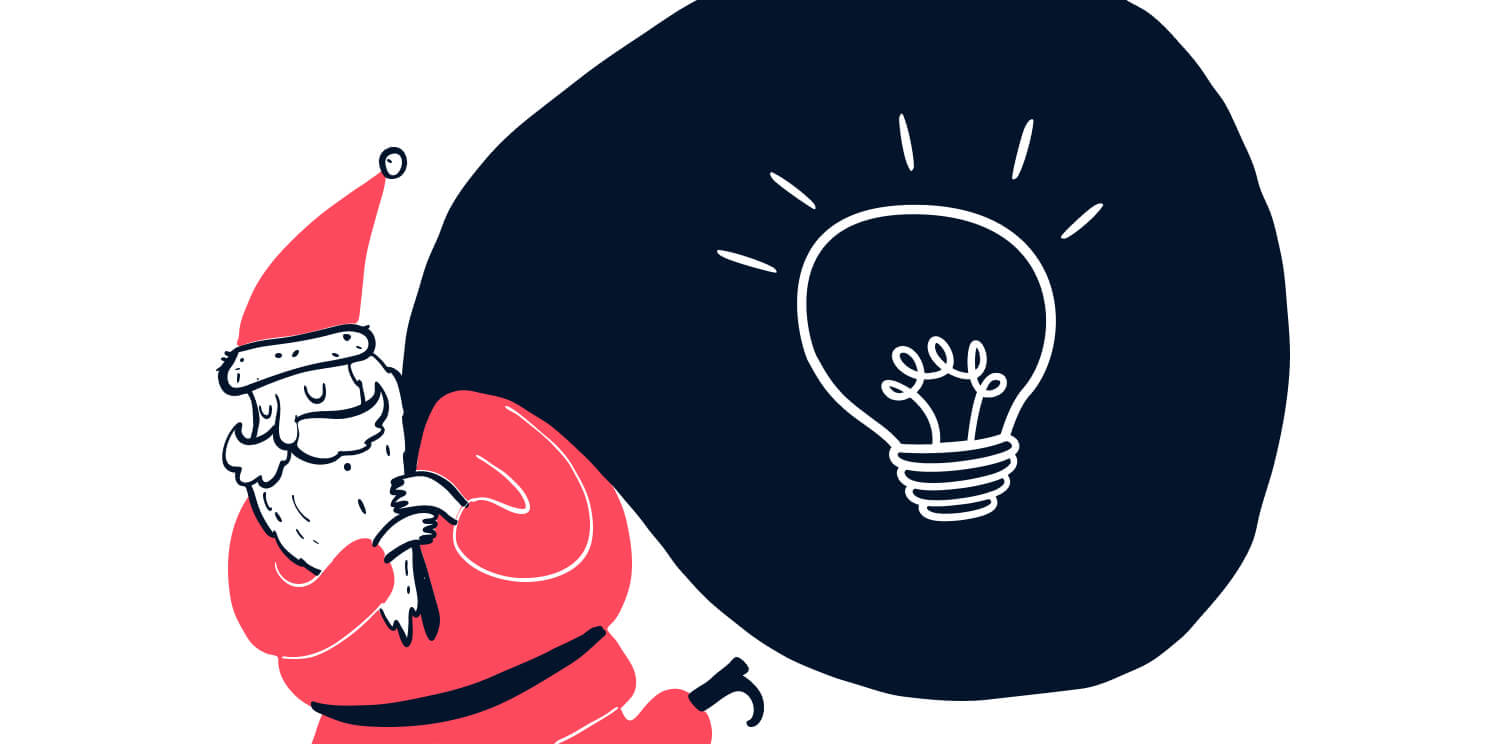 Creative holiday marketing ideas for your real estate business
The holiday season is a wonderful time of year for your marketing. As a real estate business, it offers plenty of opportunities to attract new clients and warm the hearts of your current clients. The December/January period is typically seen as a slow time for real estate. However, the season's feelings of goodwill can give your brand a boost and even your sales for the next year if you play your cards right. Prop Data's gift to you is a holiday marketing guide filled with helpful advice.

What this guide covers:

• Playing around with your visuals
• Striking the right (mistle) tone in your marketing
• Spreading cheer with your email marketing
• Making your content the gift that keeps giving
• Embracing the silly season on social media
• Letting your signage bring joy to the world
• Lighting up faces with event marketing
• Decking the halls of your show houses
• Being a real estate Santa with discounts and gifts
• Launching a merry competition
• Getting into the holiday spirit with charity outreach
• Wrapping up your marketing + promo

Play around with your visuals

All your visuals should be carefully chosen throughout the year. However, holiday seasons like Christmas offer the chance to be particularly impactful and engaging. There's a lot you can bring into your design: presents, Christmas trees, reindeer, mistletoe, Santa, stockings, elves, etc. With the new year, fireworks, toasts, parties, calendars, and ticking clocks are popular. These symbols can be easily worked into all your holiday marketing materials from emails to social media.

You want to be careful about using busy images as this can overshadow your message. The Christmas colours — red, green, gold, and silver — can also be distracting if overused in a design. Keep your design clean, use images with an authentic feel, and don't be afraid to mix in abstract designs to keep things interesting.

The festive season is also an opportunity to experiment with different visual formats. Using GIFs and videos can make your marketing come alive and show you're also celebrating the time of year.

Strike the right (mistle) tone in your marketing

The best visuals will mean little if your communications don't resonate with your audience. How you speak to them is essential; this is where using the right tone is so important. With Christmas, a good tone is warm, friendly, joyful, and even light hearted. This is a time where people are winding down for the year and looking forward to making memories with family and friends. You should ensure your tone uplifts rather than kills the vibe of this period.

The new year is about fresh beginnings. Your tone should reflect this by being inspiring and motivating. Use language that conveys positivity for the year ahead and show how you're ready to help clients tackle their real estate goals.

If you've done holiday marketing in the past, it's a good idea to check what's made an impact. If certain taglines and phrases have brought in likes, clicks, or comments, your holiday marketing should build on this. Not a wordsmith? Grammarly's Tone Detector software can help you understand how you're being perceived before you hit send. You can also have a colleague read your writing to see how they react.

Spread cheer with your email marketing

Email marketing remains a great way to connect with your clients. During the festive season, it can become your own little helper to increase sales and engagement. With a festive-themed design, you can send out promo emails highlighting your listings, services, or new offers. A newsletter filled with festive-themed content will also help you connect with your audience.

Remember, email marketing goes beyond just the emails you send to your database. Simple day-to-day communications with your property professionals can be made timely with festive-themed email signatures. With phrases like "Happy holidays" or "Merry Christmas and happy New Year", you can show you're celebrating as well.

Don't forget to have your team set out-of-office messages for your inboxes. These will help keep the connection going with prospective clients when your agents or brokers are on leave. Here are some examples to inspire your team:

• Professional: Thank you for getting in touch. Unfortunately, I'm on leave until [date]. I will be checking my emails every now and then. Please send any urgent emails to [contact name and email]. Have a fantastic holiday.

• Friendly: Ah, you've missed me! I'm currently out of the office until [date]. No need to worry, though. I'll be back in action to help you buy/sell/rent/let out property before you know it. Wishing you a wonderful Christmas and the happiest New Year.

• Humorous: Hello from the North Pole. Well, Cape Town but the littles ones will believe anything. I'm on leave, busy wrapping presents and listening to All I Want for Christmas Is You on repeat. Therefore, I will only be able to respond to your emails after [date]. Thank you for your patience, and I hope you have the best ho-ho-holiday ever.

With all email marketing, ensure you keep The Protection of Personal Information Act (POPIA) in mind. Sending unsolicited emails won't just make you a real estate grinch but could also land you in hot water with the Information Regulator.

Make your content the gift that keeps giving

The festive season is a cheery time of year but it does present a number of challenges. You can create content through blog posts, newsletters, and holiday magazines that help clients and prospective clients overcome the period. Here are some holiday content marketing examples that all have a link to real estate:

Residential real estate:

• Security tips for homeowners on holiday
• Festive season events your whole family will enjoy
• Christmas recipes you can whip up in the kitchen
• New Year's resolutions for new homeowners
• Staging your home for a festive showhouse

Commercial/industrial real estate:

• Effortless ways to decorate your office
• Best places for your holiday office party
• Top tips for holiday customer support in retail
• Is your warehouse ready for the Christmas rush?
• Spotlight on this workshop even Santa would love

It pays to start your content marketing early. However, if you have limited resources, don't be afraid to dive into your content archive. Some of your older festive season content can be easily republished or packaged into new content forms with a few tweaks.

Embrace the silly season on social media

During the December/January period, your target audience will likely be on social media, connecting with friends and family. As a time of leave, they'll also be more active on these platforms. Why waste this golden opportunity? By investing in social media marketing with a festive touch, you'll reap the rewards.

You should take time to update banner images across your platforms with imagery that reflects the season. You can also pin a festive message on Facebook and Twitter as your top post. If you anticipate receiving a lot of traffic, it's also advisable to update your profile bio for freshness.

On all your social media platforms, your wording and imagery should evoke a festive feeling. Christmas, in particular, is every bit auditory as well as visual. You can bring holiday tunes into your videos. And it doesn't need to cost a cent as there are plenty of royalty-free Christmas music sources you can use. Please follow the license requirements provided by each site:

• Taketones
• Pixabay
• Mixkit
• Fesliyan Studios: This isn't strictly royalty-free for commercial use but you are only required to donate as much as you can afford.

Your mission in the December/January period should be to post festive-themed content. This can range from events, recipes, to decoration tips — really the list is endless. By sharing some of your social media followers' own festive-themed content, you can nurture brand loyalty at a time where everyone wants to feel appreciated.

As it's the end of the year, you can show the human side of your real estate business by sharing your office party pictures, thanking top performers and clients, and relaying your goals for the new year. You can run polls to find out about people's holiday plans or host live events to answer pressing real estate questions about the year ahead.

Social media paid advertising is also helpful during the festive season. You can create adverts wishing your target audience well over the festive season so you stay top of mind. Directing traffic to relevant blog content is also a good idea. In the new year, many property professionals will be looking to make career moves. You can take advantage of this "new year, new me" attitude by targeting them with recruitment adverts.

Want to launch a successful paid advertising campaign? Read Flow's "The Agent's Festive Season Playbook" to learn how you can use their platform to effortlessly build momentum on the platform.

Let your signage bring joy to the world

With schools and offices closed, traffic declines during the festive season. However, your real estate signage will still receive eyeballs as people travel to do shopping, visit loved ones, and head to events. Give your signage the Yuletide treatment by adding tinsel, ornaments, Santa hats, wreaths, or lights. Your real estate business could also benefit from a beautiful window display. If people stop by to see it, you will get exposure for any listings displayed or property brochures left outside your door.

Light up faces with event marketing

Great holiday-themed events draw huge crowds, and this can translate to fabulous exposure for your brand. Christmas parties, markets, carollings, Christmas tree lightings, and Santa's grottos are good examples of events you can launch. If your budget doesn't allow it, it's still worthwhile to ensure your business has a presence at these events to nurture your ties to the community.

Deck the halls of your show houses

All property professionals know the value of staging to highlight a property's appeal and help buyers or renters imagine their life if they moved in. Staging your show houses for the holiday season can be a smart way to sell them. People will be more receptive to seeing festively decorated homes in your marketing.

The trick with holiday home staging is to keep it simple. You're selling property and not throwing a party. Christmas isn't celebrated universally so you should also avoid being overtly religious with your decorations. Here are some subtle ways to decorate your show houses for the festive season:

• Add a bowl of pinecones, red and green apples, or baubles to a table.
• Create a simple table runner with wrapping paper.
• Decorate the fireplace with candles and holiday greeting cards.
• Hang a wreath on the front door.
• Add fairy lights to outdoor trees or bushes.

You can enhance the festive experience by giving your show house visitors candy canes and giving the house a welcoming aroma of freshly baked biscuits.

Be a real estate Santa with discounts and gifts

Everyone appreciates a freebie, and the holiday season is the ideal opportunity to delight and excite your target audience with some well-chosen presents. If possible, consider providing a discount on services like transfer fees, marketing, or consulting. You can also partner with a real estate related business to promote discounts on gardening services, security, or plumbing.

Good corporate gifts can give your brand a boost in the eyes of potential and current clients. It can be as small as delivering holiday cards to the neighbourhood. Other marketing ideas include baubles emblazoned with your logo, branded candy, area maps, and event tickets. Branded diaries and calendars are always useful in the new year.

Launch a merry competition

With many real estate businesses marketing during the holiday season, competitions are a good way to dash ahead of the pack. Your competition should be related to real estate and have a firm understanding of your target audience. Some examples can include a spot the difference puzzle, colouring-in competition, carolling competition, family photo competition, home decoration competition, or recipe competition.

Competitions can provide a high level of engagement and brand awareness when done correctly. Make sure your competition Ts and Cs are clearly laid out. Your competition should be easy to enter and evoke a positive feeling in line with the festive season. You should also promote your competition across your marketing channels from office posters, your website, to social media.

Prize-giving is a key part of a successful competition. The more appealing and expensive the prize, the higher interest your competition will generate. Recipe books, professional photography, appliances, and food hampers are good Christmas prizes. For the new year, consider gym memberships or short courses since people will use this time to bring change to their lives. If the prize is beyond your budget, you can partner with another business to share the costs.

Getting into the holiday spirit with charity outreach

While giving back throughout the year is important, your social outreach can make an impact during a period known for gestures of compassion. Real estate businesses that are charitable can foster ties to the community, gain exposure, improve your company culture, and build a positive brand image. Here are the ways your real estate business can make a difference:

• Donations: Make a donation to a local charity. You can share your donation on social media and encourage your followers to also lend a helping hand. If donation funds are limited, you can match a small amount a client has made. You can start a crowdfunding campaign and promote it on your website and social media platforms. You can also donate all or a portion of your year-end party money towards a good cause. You should take a vote to see how receptive the team would be to the idea.

• Collections: Make your real estate office or branches the drop-off site for a food drive or toy collection.

• Volunteering: Allocate office hours for community work or give your team time off to volunteer for charity events.

• Opportunities: Many people favour opportunities rather than handouts. Consider taking on an intern in your office in the new year.

People view charitable acts as a calling card of successful businesses. Try to ensure your endeavours continue (even in small ways) so you aren't seen as opportunistic. You should also ensure your outreach is promoted on your website's blog, social media platforms, and newsletters so people are aware of your efforts.

Wrapping up your marketing + promo

The festive season is a time to attract leads, connect with clients, build your brand; ultimately setting yourself up for a successful new year. As a forward-thinking real estate business, you can't let the season get ahead of you. Plan early, think strategically, and take action. These marketing tips from design, content, social media, to social outreach will ensure you make an impact.

Promo: claim free advertising with a R1,500 Flow voucher*:

Get a R1,500 Flow voucher when you sign up for a three month+ contract this festive season. You'll also get a creative design to kick-start a lead-attracting campaign. *Valid for new clients on the Flow platform. Minimum spends and Ts & Cs apply.